Ben Wang, July 30, designers like to use architectural rich neat lines as a source of inspiration for creation. Every season, the fashion week will always see its wonderful, Fendi, Jean Pierre Braganza, Mugler ... in the Spring/Summer Fashion Week 2013, interpreting the ultra-modern sexy charm of the architectural style, and constantly magnified the structure of the clothing, bringing endless new ideas. . Rita Ora, Blake Lively, Beyonce... are big-name actresses who are fans of architectural style. The architectural style of fashion can be modified in the shape of a tough silhouette, to create a small girl's image. If your choice is correct, this is indeed an easy task.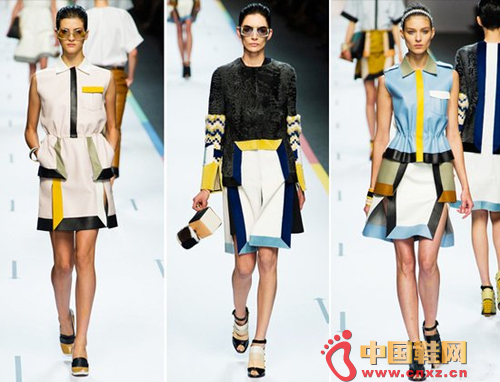 Fendi 2013 spring and summer women's clothing

Fendi is Italy's famous luxury brand as the earliest leather family, this season's show field also inherited the most classic elements, with different colors of leather stitching throughout the entire field, bright yellow, pink peach, beige, blue, brown , black ... there is no extra jumping colors, but it is particularly elegant and bright. The wide-profiled leather jacket, short-cut waistcoat design, and straight leather dress... With neat cuts and smooth lines, they are all capable and strong. Large design, geometric figures, and collisions of color blocks... Incorporating the sense of architecture into the design of clothing, the future is full. This season's Fendi can be described as brilliant, adhering to the classic and broke through the past, continuous surprises, fascinating.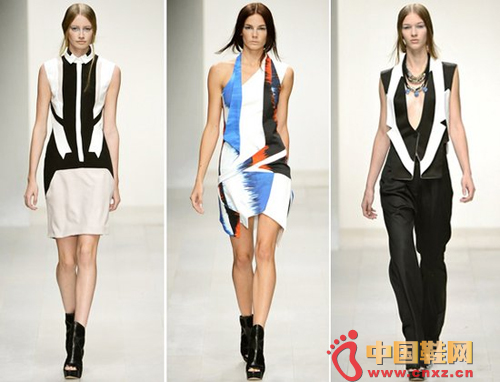 Jean Pierre Braganza 2013 Spring Women's Wear

Jean Pierre Braganza 2013 spring and summer women's release, the entire show with a minimalist design style as the main line, with multi-colored intertwined print patterns, mutual intersection, gradual transition, and constantly create a strong color impact. A variety of angular geometry combined with high-saturation color blocks, to create a capable, strong female image, simple and without losing their own unique charm. This season's many irregular dress design techniques, breaking the traditional concept of the past clothing, the clothing structure is constantly enlarged, bringing unlimited new ideas.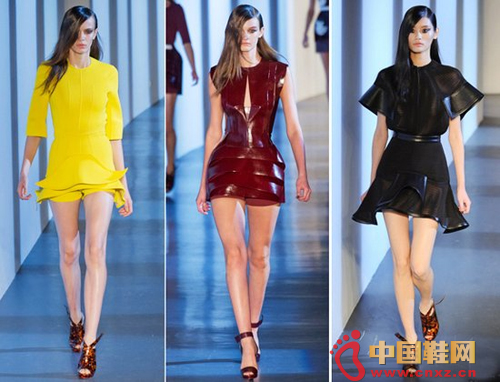 Mugler 2013 spring and summer women's clothing

Mugler released the spring and summer 2013 women's clothing, used to interpret the rich life of Thierry Mugler, his design is always telling the story. This season's fashion design still retains the unique technique that Thierry Mugler mixes abstract industrial shapes with various strange geometric structures, and brings a strong sense of vision through the present to the future. The fabrics used for the light sense are bright red wine, dark green, beautiful black... neat design outlines, like armor-like dresses and skirts with high-waist lines that appear most often in the show.. To create that ultra-modern sexy charm will combine women's soft and just perfect.

· "Bai Xia Girl" likes to wear on the upper foot
· Rejecting ugly rain boots The most IN patent leather shoes are your rain
·Admiralty body waterproof shoes make travel more pleasant
·The smart men wear comfortable shoes with comfortable feet to fly
·New Balance leads the tidal wave father to record
·[Shoes · Will] 23-year-old signature shoe is very show?
· Natural Kings, exclusive 70 year old Danish Humvee shoes
· Cats and shoes fire? Every girl should have a pair of Hepburn
·The white dress is not "small white"
·Pleated skirt with what shoes with different wipe out

1.High quality and fashionable design

2.Breathable and Eco-friendly

3.We can change as your request

4.Your design and artworks are welcome

5.latest design jeans pants color: black and many other colors are available

6.latest design jeans pants season: spring and autumn

7.Shipping mode:

1.Sea shipment

2.Air shipment

3.Express

Women'S Blended Pants,Wholesale Women'S Blended Pants,Fashion Women'S Blended Pants

Dongguan Zhongtang yu' an Weaving factory , https://www.yuanfabric.com